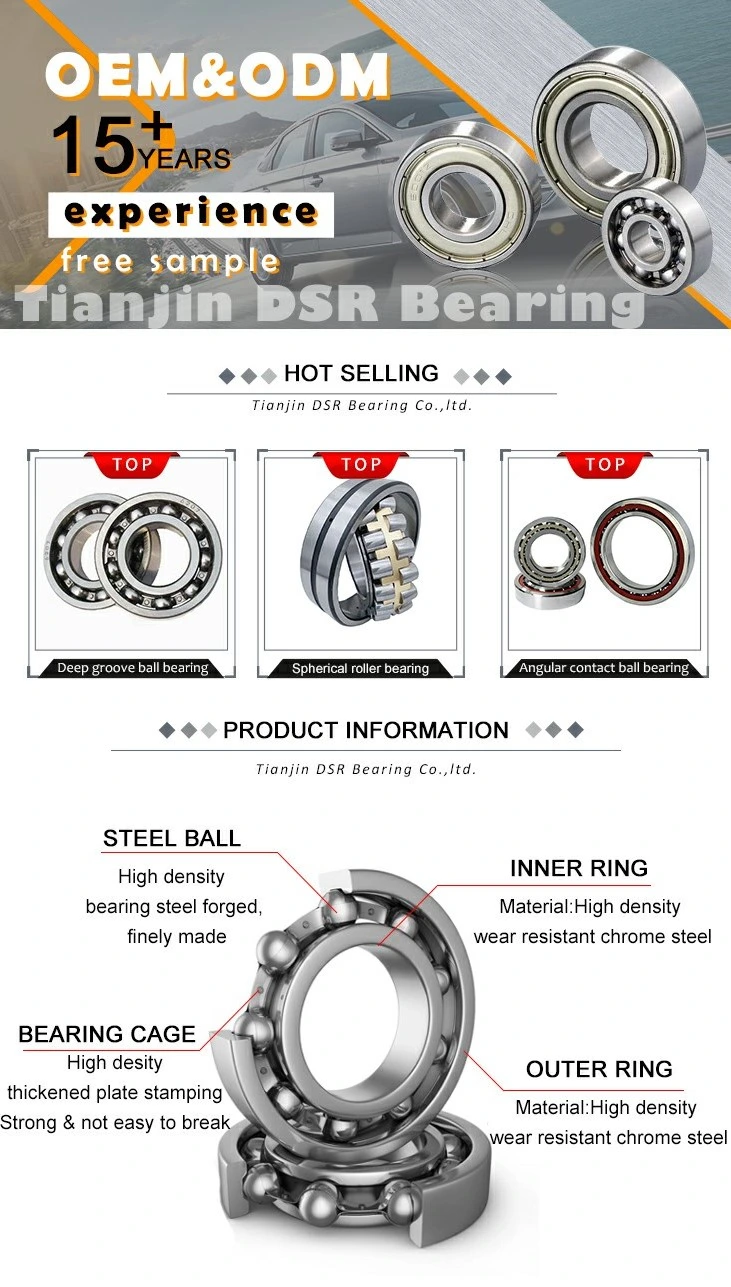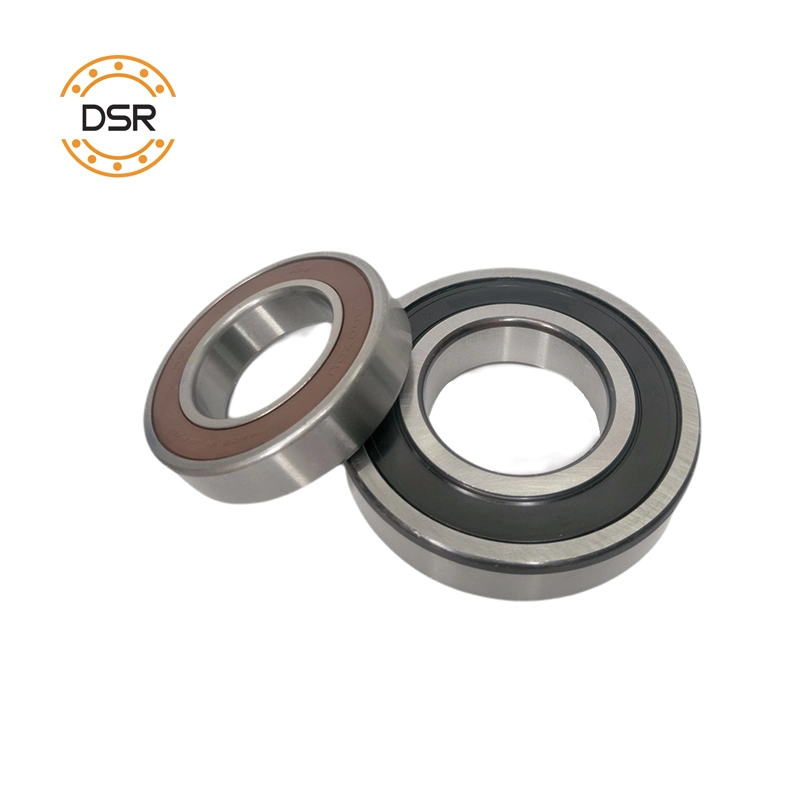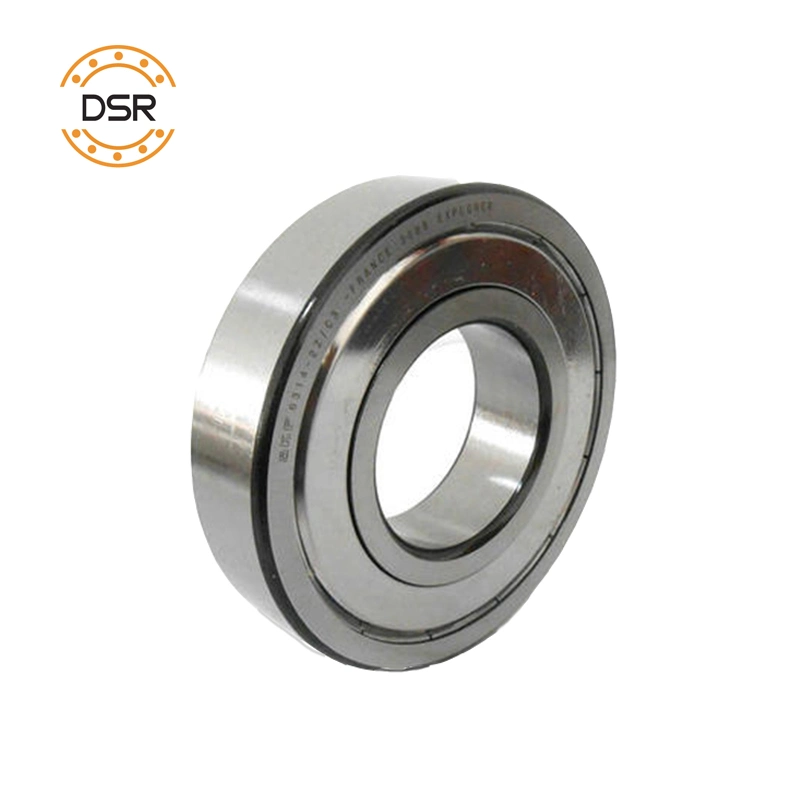 Basic load ratings
Fatigue
Speed ratings
Mass
Designation
dynamic
static
load
Reference
Limiting
load limit
speed
speed
d
D
B
C
C0
Pu
* - SKF Explorer bearing
mm
kN
kN
r/min
kg
-
3
10
4
0,54
0,18
0,007
130000
80000
0,0015
623
3
10
4
0,54
0,18
0,007
-
40000
0,0015
623-2RS1
3
10
4
0,54
0,18
0,007
130000
63000
0,0015
623-2Z
3
10
4
0,54
0,18
0,007
-
40000
0,0015
623-RS1
3
10
4
0,54
0,18
0,007
130000
80000
0,0015
623-Z
4
9
2,5
0,54
0,18
0,007
140000
85000
0,0007
618/4
4
9
3,5
0,54
0,18
0,007
140000
70000
0,0010
628/4-2Z
4
9
4
0,54
0,18
0,007
140000
70000
0,0013
638/4-2Z
4
11
4
0,715
0,232
0,0098
130000
80000
0,0017
619/4
4
11
4
0,715
0,232
0,0098
130000
63000
0,0017
619/4-2Z
4
12
4
0,806
0,28
0,012
120000
75000
0,0021
604
4
12
4
0,806
0,28
0,012
120000
60000
0,0021
604-2Z
4
12
4
0,806
0,28
0,012
120000
60000
0,0021
604-Z
4
13
5
0,936
0,29
0,012
110000
67000
0,0031
624
4
13
5
0,936
0,29
0,012
110000
53000
0,0031
624-2Z
4
13
5
0,936
0,29
0,012
110000
67000
0,0031
624-Z
4
16
5
1,11
0,38
0,016
95000
60000
0,0054
634
4
16
5
1,11
0,38
0,016
-
28000
0,0054
634-2RS1
4
16
5
1,11
0,38
0,016
95000
48000
0,0054
634-2RZ
4
16
5
1,11
0,38
0,016
95000
48000
0,0054
634-2Z
4
16
5
1,11
0,38
0,016
-
28000
0,0054
634-RS1
4
16
5
1,11
0,38
0,016
95000
60000
0,0054
634-RZ
4
16
5
1,11
0,38
0,016
95000
60000
0,0054
634-Z
5
11
3
0,637
0,255
0,011
120000
75000
0,0012
618/5
5
11
4
0,637
0,255
0,011
120000
60000
0,0014
628/5-2Z
5
11
5
0,637
0,255
0,011
120000
60000
0,0016
638/5-2Z
5
13
4
0,884
0,34
0,014
110000
67000
0,0025
619/5
5
13
4
0,884
0,34
0,014
110000
53000
0,0025
619/5-2Z
5
16
5
1,14
0,38
0,016
95000
60000
0,0050
625 *
5
16
5
1,14
0,38
0,016
95000
48000
0,0050
625-2Z *
5
16
5
1,14
0,38
0,016
95000
60000
0,0050
625-Z *
5
19
6
2,34
0,95
0,04
80000
50000
0,009
635 *
5
19
6
2,34
0,95
0,04
-
24000
0,0090
635-2RS1 *
5
19
6
2,34
0,95
0,04
80000
40000
0,0090
635-2RZ *
5
19
6
2,34
0,95
0,04
80000
40000
0,0090
635-2Z *
5
19
6
2,34
0,95
0,04
-
24000
0,0090
635-RS1 *
5
19
6
2,34
0,95
0,04
80000
50000
0,0090
635-RZ *
5
19
6
2,34
0,95
0,04
80000
50000
0,0090
635-Z *
6
13
3,5
0,884
0,345
0,015
110000
67000
0,0020
618/6
6
13
5
0,884
0,345
0,015
110000
53000
0,0026
628/6-2Z
6
15
5
1,24
0,475
0,02
100000
63000
0,0039
619/6
6
15
5
1,24
0,475
0,02
100000
50000
0,0039
619/6-2Z
6
19
6
2,34
0,95
0,04
80000
50000
0,0084
626 *
6
19
6
2,34
0,95
0,04
-
24000
0,0084
626-2RSH *
6
19
6
2,34
0,95
0,04
80000
40000
0,0084
626-2RSL *
6
19
6
2,34
0,95
0,04
80000
40000
0,0084
626-2Z *
6
19
6
2,34
0,95
0,04
-
24000
0,0084
626-RSH *
6
19
6
2,34
0,95
0,04
80000
50000
0,0084
626-RSL *
6
19
6
2,34
0,95
0,04
80000
50000
0,0084
626-Z *
6,35
19,05
5,556
2,81
1,08
0,045
70000
50000
0,0075
EE 2 TN9
Aftermarket only
6,35
19,05
7,144
2,81
1,08
0,045
70000
50000
0,010
EEB 2-2Z
Aftermarket only
7
14
3,5
0,956
0,4
0,017
100000
63000
0,0022
618/7
7
14
5
0,956
0,4
0,017
100000
50000
0,0031
628/7-2Z
7
17
5
1,48
0,56
0,024
90000
56000
0,0049
619/7
7
17
5
1,48
0,56
0,024
90000
45000
0,0049
619/7-2Z
7
19
6
2,34
0,95
0,04
85000
53000
0,0075
607 *
7
19
6
2,34
0,95
0,04
-
24000
0,0075
607-2RSH *
7
19
6
2,34
0,95
0,04
85000
43000
0,0075
607-2RSL *
7
19
6
2,34
0,95
0,04
85000
43000
0,0075
607-2Z *
7
19
6
2,34
0,95
0,04
-
24000
0,0075
607-RSH *
7
19
6
2,34
0,95
0,04
85000
53000
0,0075
607-RSL *
7
19
6
2,34
0,95
0,04
85000
53000
0,0075
607-Z *
7
22
7
3,45
1,37
0,057
70000
45000
0,013
627 *
7
22
7
3,45
1,37
0,057
-
22000
0,012
627-2RSH *
7
22
7
3,45
1,37
0,057
70000
36000
0,012
627-2RSL *
7
22
7
3,45
1,37
0,057
70000
36000
0,013
627-2Z *
7
22
7
3,45
1,37
0,057
-
22000
0,012
627-RSH *
7
22
7
3,45
1,37
0,057
70000
45000
0,012
627-RSL *
7
22
7
3,45
1,37
0,057
70000
45000
0,013
627-Z *
8
16
4
1,33
0,57
0,024
90000
56000
0,0030
618/8
8
16
5
1,33
0,57
0,024
-
26000
0,0036
628/8-2RS1
8
16
5
1,33
0,57
0,024
90000
45000
0,0036
628/8-2Z
8
16
6
1,33
0,57
0,024
90000
45000
0,0043
638/8-2Z
8
19
6
2,34
0,95
0,04
85000
43000
0,0072
607/8-2Z *
8
19
6
2,34
0,95
0,04
85000
53000
0,0072
607/8-Z *
8
19
6
1,9
0,735
0,031
80000
50000
0,0071
619/8
8
19
6
1,9
0,735
0,031
-
24000
0,0071
619/8-2RS1
8
19
6
1,9
0,735
0,031
80000
40000
0,0071
619/8-2Z
8
22
7
3,45
1,37
0,057
75000
48000
0,012
608 *
8
22
7
3,45
1,37
0,057
-
22000
0,012
608-2RSH *
8
22
7
3,45
1,37
0,057
75000
38000
0,012
608-2RSL *
8
22
7
3,45
1,37
0,057
75000
38000
0,012
608-2Z *
8
22
7
3,45
1,37
0,057
75000
38000
0,012
608-2Z/C3WT *
8
22
7
3,45
1,37
0,057
-
22000
0,012
608-RSH *
8
22
7
3,45
1,37
0,057
75000
48000
0,012
608-RSL *
8
22
7
3,45
1,37
0,057
75000
48000
0,012
608-Z *
8
22
11
3,45
1,37
0,057
-
22000
0,016
630/8-2RS1
8
24
8
3,9
1,66
0,071
63000
40000
0,017
628 *
8
24
8
3,9
1,66
0,071
-
19000
0,017
628-2RS1 *
8
24
8
3,9
1,66
0,071
63000
32000
0,017
628-2RZ *
8
24
8
3,9
1,66
0,071
63000
32000
0,017
628-2Z *
8
24
8
3,9
1,66
0,071
-
19000
0,017
628-RS1 *
8
24
8
3,9
1,66
0,071
63000
40000
0,017
628-RZ *
8
24
8
3,9
1,66
0,071
63000
40000
0,017
628-Z *
8
28
9
4,62
1,96
0,083
60000
30000
0,03
638-2RZ
8
28
9
4,62
1,96
0,083
60000
38000
0,030
638-RZ
Principal dimensionsDESCRIPTION OF THE BEARING
The single row deep groove ball bearing are simple in design, non-separable, suitable for high and even very high speeds and are robust in operation, requiring little maintenance.
Deep raceway grooves and the balls enable deep groove ball bearings to accommodate axial loads in both directions, in addition to radial loads, even at high speeds.
Deep-groove bearings have higher load ratings for their size than shallow-groove, but are also less tolerant of misalignment of the inner and outer races.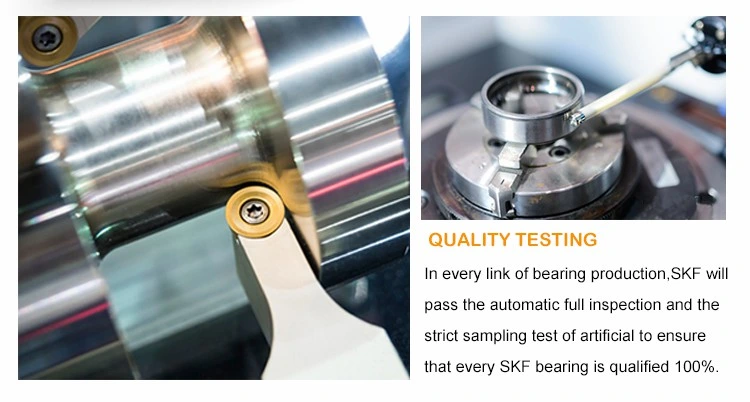 ABOUT US
Tianjin DSR Bearing Co.,ltd.Is a professional manufacturer of bearings, all kinds of rollers , with more than 15 years experience.Our factory is in Shandong and our export office is in Tianjin.We have established long-term cooperative relations with customers in Canada, Mexico,the United States and other countries and regions.So we also hope to cooperate with you! We believe that our stable quality and competitive price will help you get more market and better development!
After years of development, our company has formed a setof effective and cooperative management models and our business philosophy. "Consider More From the Customer's Aspect" is our service principle. As a qualified domestic & international trading company, our products are comprehen-sive and abundant.They are widely used in metallurgy, mining, petroleum, machinery, electric power, paper, grass and other fields. We sincerely hope that there will be more customers from different places to cooperate with our comp-any, and we will provide top service. We are very confident in our products, and we are sure that we can earn your trust!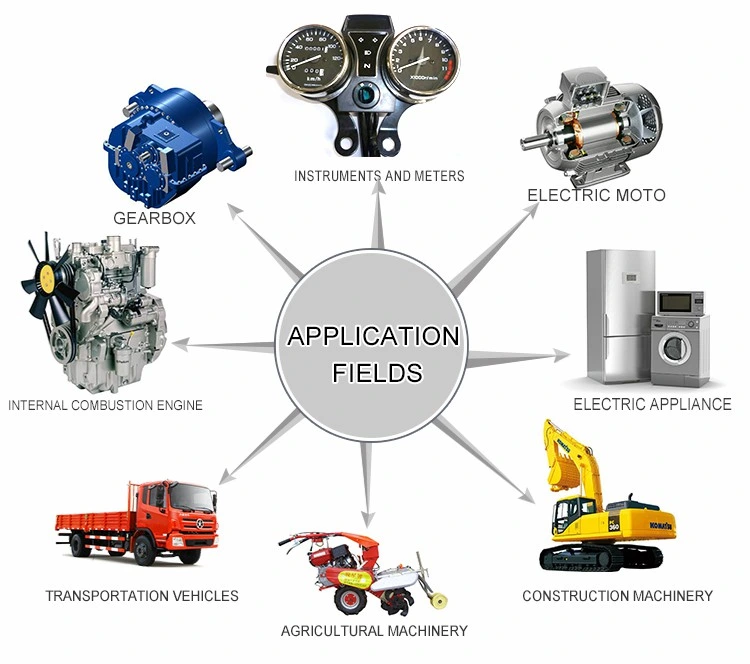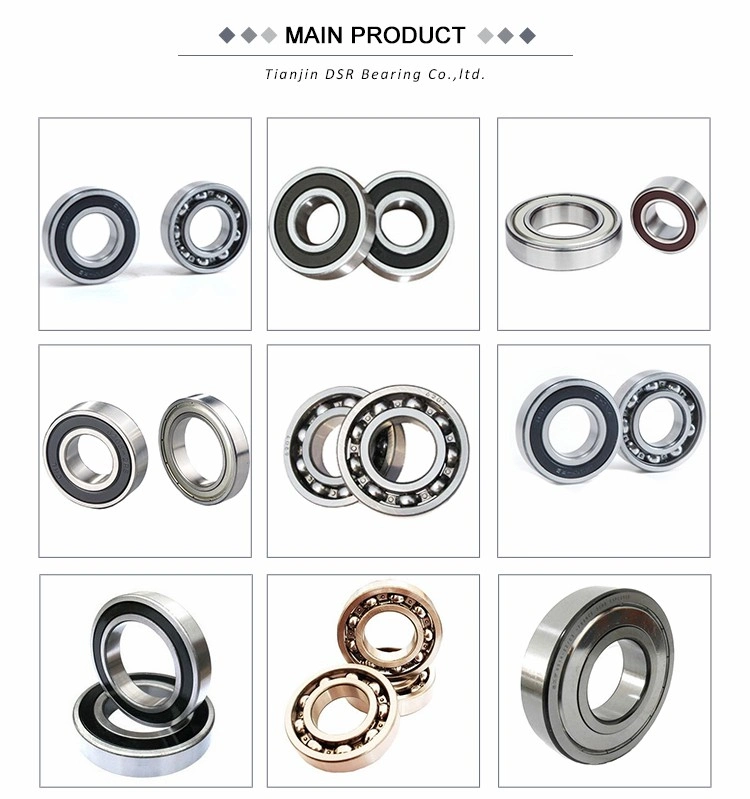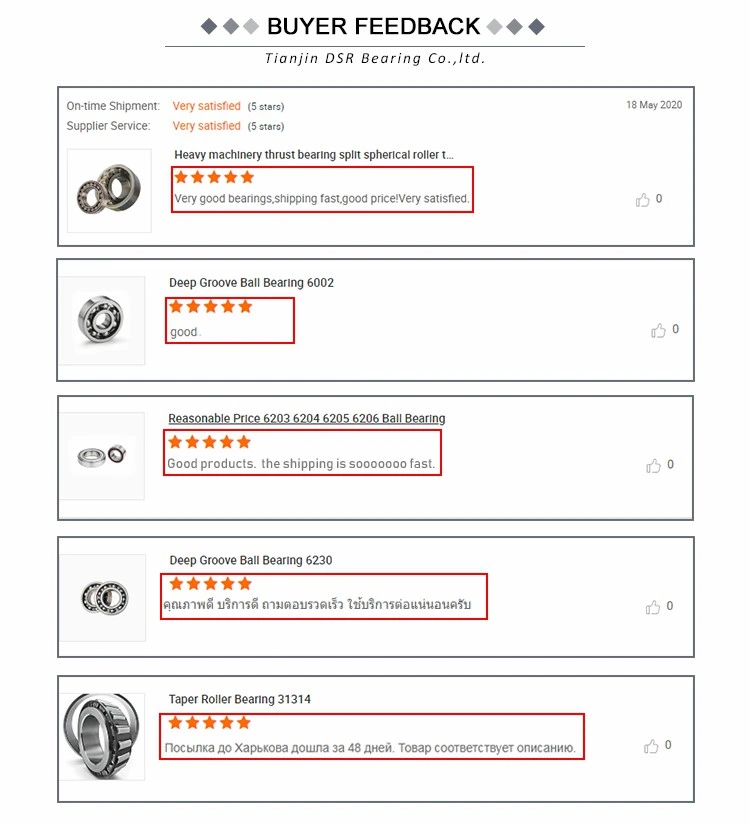 FAQ
Q:What the MOQ of your company?
A:MOQ is 1pc.
Q:Could you accept OEM and customize?
A:YES,we can customize for you according to sample or drawing.
Q:Could you supply sample for free?
A:Yes,we can supply sample for free,you only need to pay for the shipping cost?
Q:IS you company factory or Trade Company?
A:We have our own factory ;our type is factory +trade.
Q:Could you tell me the material of your bearing?
A:We have chrome steel,and staninless steel,ceramic and carbon steel.
Q:Could you offer door to door service?
A:Yes,by express(DHL,FEDEX,TNT,EMS,4-10 days to your city.)
Q:Could you tell me the payment term of your company can accept?
A:T/T.Western Union,PayPal
small order TT,100% full payment before shipping.
If big order we can do 50% down payment or 30% down payment 70% Balance payment on copy of B/L ,depend on the order details.
Q:Could you tell me the delivery time of your goods?
A:If stock,in 7days or base on your order quantity