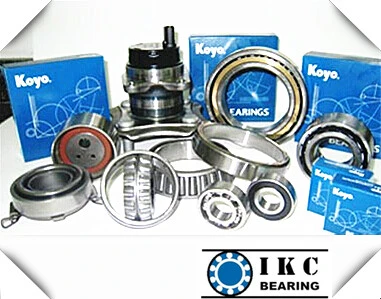 Koyo R Type Spherical Roller Bearing
Koyo Bearings
Two Piece Finger Type
-Reduced vibration/quiet operation
Koyo Machined Bronze Retainer
-Higher operating speed
-Better performance under marginal lubrication conditions
Koyo Reduced sliding friction
-Less tendency for roller skew during operation
Koyo RH Type Spherical Roller Bearing
Symmetrical Roller Design
-Larger diameter and increased roller
Koyo Pressed Steel Retainer
-length for maximum capacity
Koyo R and RH Type Spherical Roller Bearings
W33 Features Radial OD (oil Holes & Groves)
-Optimizes lubricant capability
Self Alignment
-Accommodates up to 2 misalignment
Koyo Cylindrical Roller Bearings
Single Row Cylindrical Roller
Double Row Cylindrical Roller
Rolling Mill Cylindrical Roller
Koyo Deep Groove Ball Bearings
Koyo Angular Contact Ball Bearings
Available as Single or Double row, Matched Pair and Four Point Contact
Koyo Self Aligning Ball Bearings
Koyo Cylindrical Roller Bearings
Koyo Tapered Roller Bearings
Koyo Spherical Roller Bearings
This type features a large load rating capacity and self-aligning capability. Cylindrical and Tapered bore
Koyo Thrust Ball Bearings
Available as single and double direction types. They are designed with a self-aligning capability and can
Accommodate the effects of inaccurate mounting.
Usage = Single direction accommodate axial load in one direction, while Double logically can
Accommodate axial load in both directions.
Koyo Needle Roller Bearings
Designed to be small in sectional height for products with space constraints. Available as Drawn Cup,
Machined Ring, Thrust, Stud type (Cam followers), Yoke type (roller followers) and as Miniature One way
Clutches.
Tapered Roller Bearing a conical inner and outer ring raceway, Tapered Roller arranged in between, all conical surface projection lines in the bearing axis to meet the same point, this design enables Tapered Roller Bearing particularly suited to bear composite (radial and axial) loads. Tapered Roller Bearings can best way to stress distribution in the Roller Raceway contact with the surface, thereby enhancing the reliability and affordability of error of perspective. We provides a wide range of sizes series of Tapered Roller Bearings, single row, matching single, double row, and four Tapered Roller Bearings can meet a wide range of applications.
30224 KOYO 30326 32012 32213 32318 32948 33114JR 352217 KOYO
30224 KOYO 30326JR 32012JR 32213JR 32318JR 32948 33115 352218 KOYO
30224JR KOYO 30328 32013 32214 32319 32948JR 33115 352219 KOYO
30226 KOYO 30328 32013 32214 32320 32952 33115JR 352220 KOYO
30226 KOYO 30328JR 32013JR 32214JR 32320 32952 33116 352221 KOYO
30226JR KOYO 30330 32014 32215 32320JR 32952JR 33116 352222 KOYO
30228 KOYO 30330 32014 32215 32321 32956 33116JR 352224 KOYO
30228 KOYO 30330JR 32014JR 32215JR 32321 32956 33117 352226 KOYO
30228JR KOYO 30332 32015 32216 32321JR 32956JR 33117 352228 KOYO
30230 KOYO 30332 32015 32216 32322 32960 33117JR 352230 KOYO
30230 KOYO 30332JR 32015JR 32216JR 32322 32960 33118 352232 KOYO
Bearing Model
Dimensions(mm)
Limiting speeds
Basic load ratings
Weight
(r/min)
(N)
d
D
T
B
C
R
r
grease
oil
dynamic
static
Kg
Cr
Cor
33205
25
52
22
22
18
1
1
7800
10000
51100
63600
0.22
33206
30
62
25
25
19.5
1
1
6500
8200
57000
70000
0.38
33207
35
72
28
28
22
1.5
1.5
5500
7000
92600
117000
0.53
33208
40
80
32
32
25
1.5
1.5
5000
6000
112000
144000
0.73
33209
45
85
32
32
25
1.5
1.5
4600
5800
116000
155000
0.81
33210
50
90
32
32
24.5
1.5
1.5
4200
5400
120000
166000
0.83
33211
55
100
35
35
27
2
1.5
3800
4900
150000
201000
1.13
33212
60
110
38
38
29
2
1.5
3500
4400
183000
253000
1.53
33213
65
120
41
41
32
2
1.5
3200
4100
205000
280000
1.99
33214
70
125
41
41
32
2
1.5
3000
3800
220000
314000
2.08
33215
75
130
41
41
32
2
1.5
3000
3800
219000
316000
2.14
33216
80
140
46
46
35
2.5
2
3200
4100
272000
103000
2.94
33010
50
80
24
24
19
1
1
5000
6000
67000
107000
0.45
33011
55
90
27
27
21
1.5
1.5
4000
5400
86500
140000
0.7
33012
60
95
27
27
21
1.5
1.5
3700
5000
92500
148000
0.73
33013
65
100
27
27
21
1.5
1.5
3500
4700
98000
160000
0.78
33015
75
115
31
31
25.5
1.5
1.5
3000
4100
129000
206000
1.15