25mm 38mm 50mm 76mm Tower packing hollow plastic polyhedral ball
25mm 38mm 50mm 76mm Tower packing hollow plastic polyhedral ball
is a kind of plastic random packing made of two hemispheres. Each hemisphere is made of many flabellate vanes. It is also made from heat resistant and chemical corrosion resistant plastics, including PE, PP, RPP, PVC, CPVC and PVDF. Plastic polyhedral hollow ball is used for absorbers, degassing, liquid extraction, water treatment and heat transfer. Its specific surface area is larger than any other spherical packings.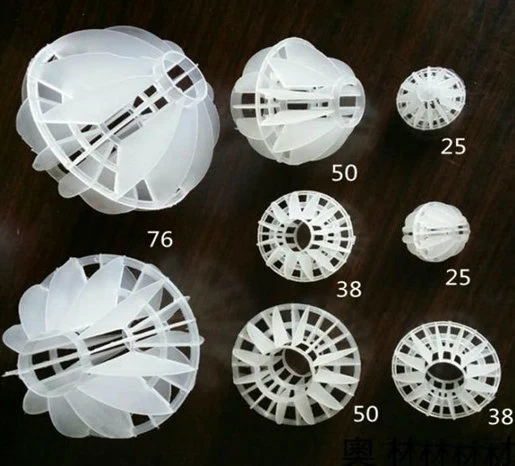 Plastic Polyhedral Hollow Ball ( PP ) is also called plastic multi-aspect hollow ball. Polyhedral Hollow Ball packing composed of two hemispheres. And each hemisphere consists of 12 pcs half fan-shaped leaves, the upper and lower leaves in a staggered arrangement.



It has features such as high free volume, low pressure drop, low mass-transfer unit height, high flooding point, uniform gas-liquid contact, small specific gravity, high mass transfer efficiency and so on, and the application temperature in media ranges from 60 to 150. For these reasons it is widely used in the packing towers in petroleum industry, chemical industry, alkali-Chloride industry, coal gas industry and environmental protection, etc.



Plastic multi-aspect hollow ball is a new type of high-efficiency tower packing. can be widely used in equipment where the domestic power, chemical industry, paper making and environmental protection industries will use for desulfurization carbon and acid, oily-water separating, seawater desalination, purified and waste water treatment.



25mm 38mm 50mm 76mm Tower packing hollow plastic polyhedral ball technical data
Specification

Surface area
m2/m3
Bulk density
kg/m3

Number

25mm

460

145kg

64000

38mm

325

125kg

25000

50mm

236

65kg

11500

76mm

150

90kg

3000
25mm 38mm 50mm 76mm Tower packing hollow plastic polyhedral ball

Features
High free volume, low pressure drop, low mass-transfer unit height.
High flooding point, uniform gas-liquid contact.
Small specific gravity, high mass transfer efficiency.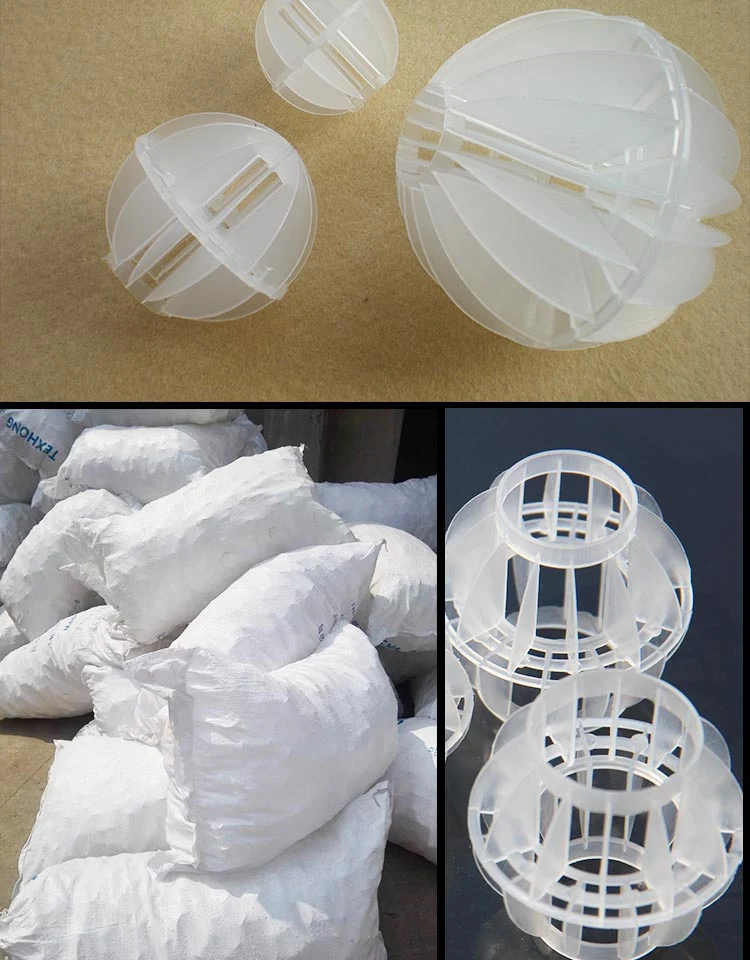 Physical & Chemical properties
| | | | | | | |
| --- | --- | --- | --- | --- | --- | --- |
| Performance / Material | PE | PP | RPP | PVC | CPVC | PVDF |
| Density (kg/m3) | 0.94-0.96 | 0.89-0.91 | 0.93-0.94 | 1.32-1.44 | 1.50-1.54 | 1.75-1.78 |
| Operation Temp.(Degree C) | 90 | >100 | >120 | >60 | >90 | >150 |
| Chemical corrosion resistance | Good | Good | Good | Good | Good | Good |
| Compression Strength(Mpa) | >6.0 | >6.5 | >7.0 | >6.0 | >8.0 | >10.0 |
25mm 38mm 50mm 76mm Tower packing hollow plastic polyhedral ball

Application
Gas absorption
Deabsorption system
Scrubbing tower
Removing smoke equipment

Product Advantage
High liquid & vapor loading, Column diameter could be designed smaller for new equipment and capacity could be increased dramatically for existing column revamp.

High resistance to nearly all mineral and organic acids and derivatives, partly resistant to alkalis.

High mass-transfer efficiency. Much higher specific surface area than random packing.

Low pressure drop, considerable energy savings.

Wide turndown ratio. Easy to scale up.

Suitable for all sizes of column.
Why choose us


1. Competitive price
With many years experience in this filed, we can give competitive price. As a manufacturer, we sale products directly there will not have any other cost.
2. Our quality guarantee
We make quality for each process before packing.Avoiding manufacturer defects
3. Fast delivery time
Adopts advanced equipment and machines to production capacity for bulks,ensure the shipment soon,improve your efficiency.
4. FRP Conduit Snake Duct Rod Packing
Durable wooden pallet or carton, you can be sure the ordered items will reach your in perfect condition.
Our service
We offer professional products and fast delivery.
We will help you solve problems when you use our products.
Any question can turn to the technology department of our company.
Fast delivery (Our factory has high production capacity and there is enough inventory to insure fast delivery for you)

2. Competitive price (We are manuafacturer of our products, so we can provide you both high quality products and competitive price)

Quick response each inquiry within 24hours

Quanlity control strickly

Quick delivery imporve your effciency
25mm 38mm 50mm 76mm Tower packing hollow plastic polyhedral ball
Package and Shipping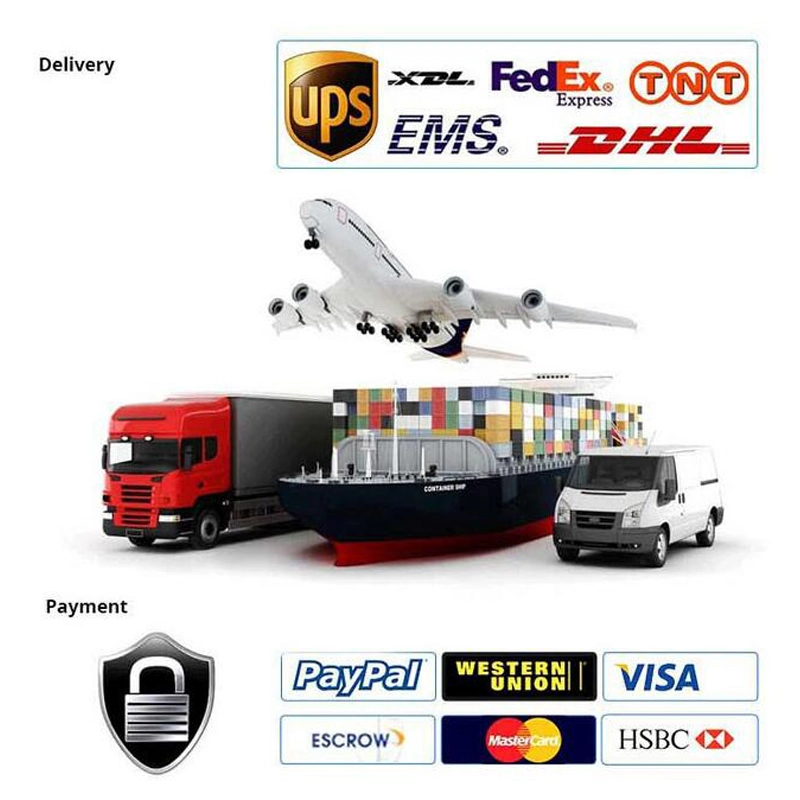 FAQ

1. Is your company a manufacturer or a trading company?
We are a manufacturer located in HeBei ZaoQiang County, China.
2. Do you have inport-export right?
Yes, we do. Our factory has been certificated as an import-export enterprise.
3. What is your payment mode?
30% in advance and 70% before delivery by T/T, WESTERN UNION, L/C or negotiated.
4. How about your packing?
We usually packed in plastic material inside and then wooden box outside.
5. How long is your delivery?
Usually 10-20 days after order confirmed, according the quantity ordered.
6. Is it sample available?
Yes, small pieces of sample are available in our company.
If you have any interests or questions about our products, pls contact us freely.
Welcome your inquiry about our

25mm 38mm 50mm 76mm Tower packing hollow plastic polyhedral ball